CONNECTING PEOPLE THROUGH MOVEMENT
Inspiration in Motion is a charity that promotes dance and the performing arts. With particular focus on commissioning and supporting new dance works, but also look for opportunities to broaden the audiences for dance and support education and training. 
The charity trustees are: Anastassia Howarth, Duncan Milroy, Ivan Putrov
Past projects the charity has supported include:
supporting choreography by Ludovic Ondiviela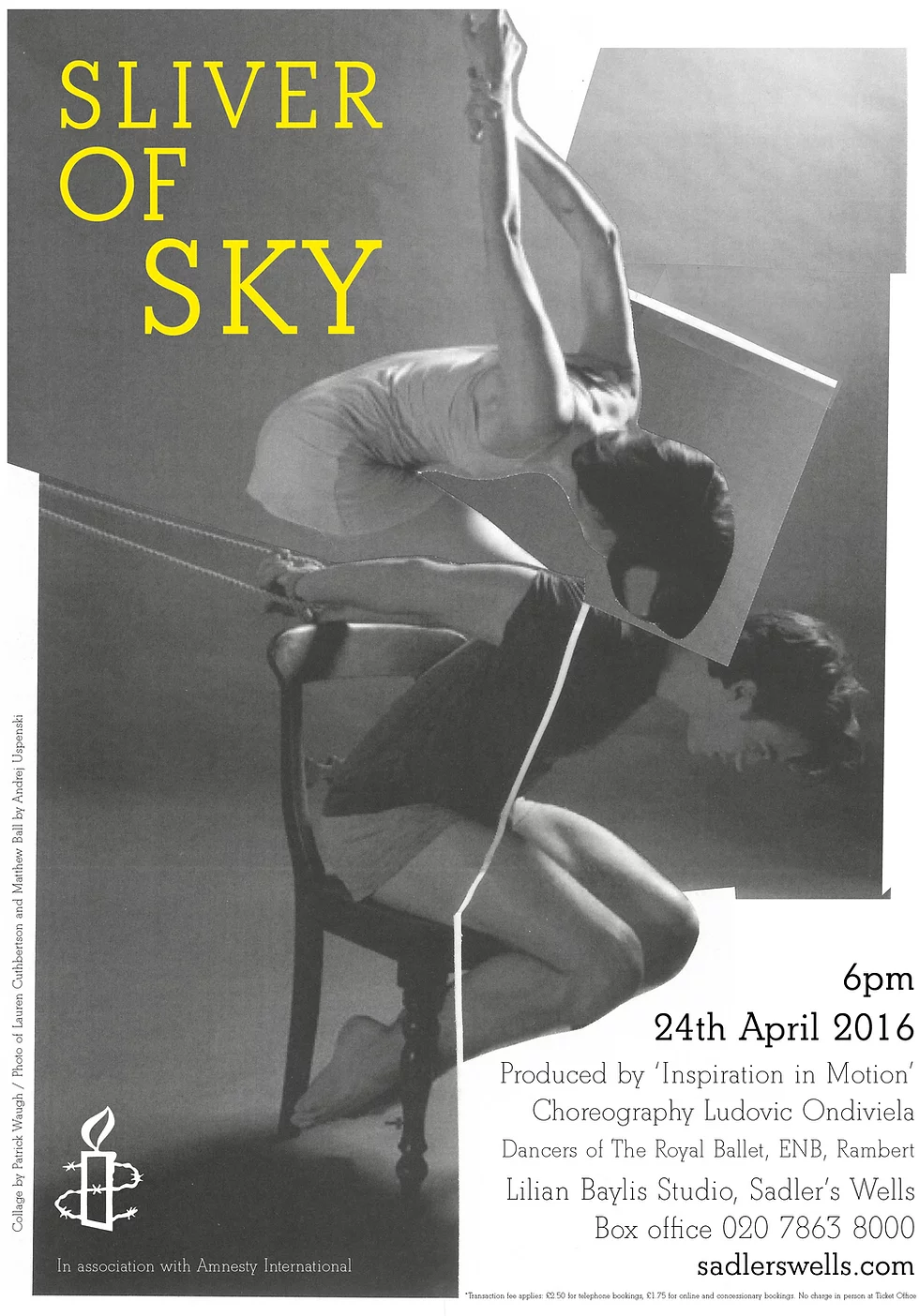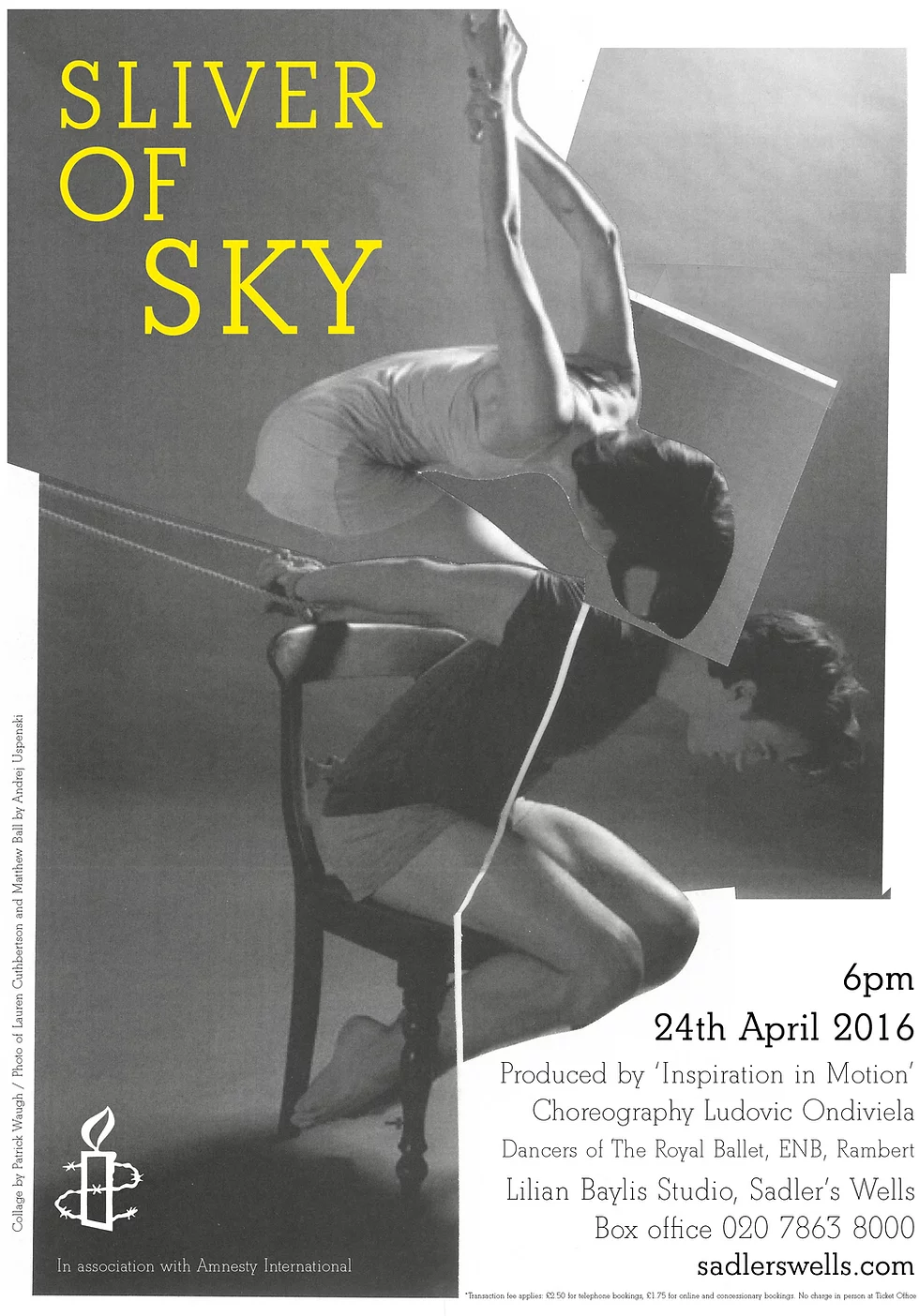 Sliver of Sky was created by Ludovic Ondiviela and performed in association with Amnesty International on 24 April 2014 at the Lilian Baylis Studio, Sadler's Wells.
Albert Woodfox was held in solitary confinement in the US for 43 years until his release in 2014.  From his cramped prison cell there was a slit of a window from which he could see, in his words,  a "sliver of sky".
The ballet takes its inspiration from the human rights issues round the issue of solitary confinement. Ludovic created the work on dancers from The Royal Ballet, English National Ballet and Rambert. 
He explained the thinking behind the piece:
"Reading about  the experience of solitary confinement has led me to explore  the emotional and psychological journey of detainees and their families. Human beings are essentially social beings and isolation and extreme loneliness can drive people to madness.  How does someone find hope when locked up for 23 hours a day in a 6ft by 9ft cell when the only view of the outside is through a tiny window which offers a sliver of sky? " 
Raymond Chai was supported in developing 'Unbroken Silence' for performance at the Your Move Dance Festival in New Jersey, USA.
Support was given to a trip by Andrew McNicol to New York, USA, where Andrew had been commissioned to create new choreography in a workshop with the New York Choreographic Institute. The support resulted in commissioning of further work by a major US promoter and potential for other works with other US institutions.
created by Sergei Polunin
Francisco Rojas is an independent choreographer working in Mexico City. Inspiration In Motion arranged the opportunity for him to shadow the work of two established choreographers, Russell Maliphant and Wayne McGregor for two weeks in October / November 2016. As a result of the experience Francisco embarked on development of new choreography on his return to Mexico City.
created by Sergei Polunin
The charity supported the creation and production of a new ballet, 'Satori', in November 2017. The ballet was created by Sergei Polunin and performed within a programme of works at the London Coliseum over 7 performances in December 2017. Within that programme Inspiration In Motion also supported a children's matinee performance with a rather different programme designed to inspire a younger audience.
Our criteria for grant support are laid out here:
Delivering our projects is wholly dependent on securing sponsorship and donations. Contact us to hear more – we invite your support.
CONTACT
Email: info@inspirationinmotion.org.uk
Address: Oaklands, Hampton Court Road, East Molesey, Surrey, United Kingdom.
Inspiration in Motion is a charity registered in England & Wales, no. 1167669 and a company limited by guarantee no. 9263730, registered address Oaklands, Hampton Court Road, East Molesey, KT8 9DA.
Trustees: Anastassia Howarth, Duncan Milroy, Ivan Putrov